We have analysed the loss of life of both PKK members, Turkish state security forces and civilians between june 2015 and june 2020. A great shift in dynamics can be seen in this data. Not only has the ratio of PKK-deaths and state security forces-deaths changed drastically, PKK has increased its number of Iranian militants inside Turkey.
Data on fatalities collected by the international Crisis Group show a large change in dynamics over the past five years.
For one thing, fighting has moved out of the cities. Over the last two years, neither the PKK nor its affiliate the Kurdistan Freedom Hawks has carried out attacks in metropolitan areas. Though in 2015 and 2016 we could see a large peak in fatalities, as an insurgency was performed in multiple cities in South-East Turkey, where PKK members accompanied by civilians set up barricades and fought security forces there.
Fatalities – Crisis Group could confirm an average of 40 per month in 2019 – have been concentrated in the rural areas of Turkey's Kurdish-majority south east. Over the past year, the death rate among PKK militants, and particularly in northern Iraq, has risen.
Ankara's stepped-up operations, involving curfews, advanced technology, drone strikes and more state security forces, have killed higher numbers of seasoned PKK figures in 2019 than in any of the previous three years of escalation. Killing more PKK militants, however, is not translating into victory for Ankara as the PKK draws on fighters from outside Turkey and capitalises on pent up anti-state resentment among some Kurds.
In the last 5 years at least 5001 persons were confirmed killed:
۳۰۰۱ PKK militants
226 youth militia members and plainclothes PKK members
519 civilians
1245 state security force members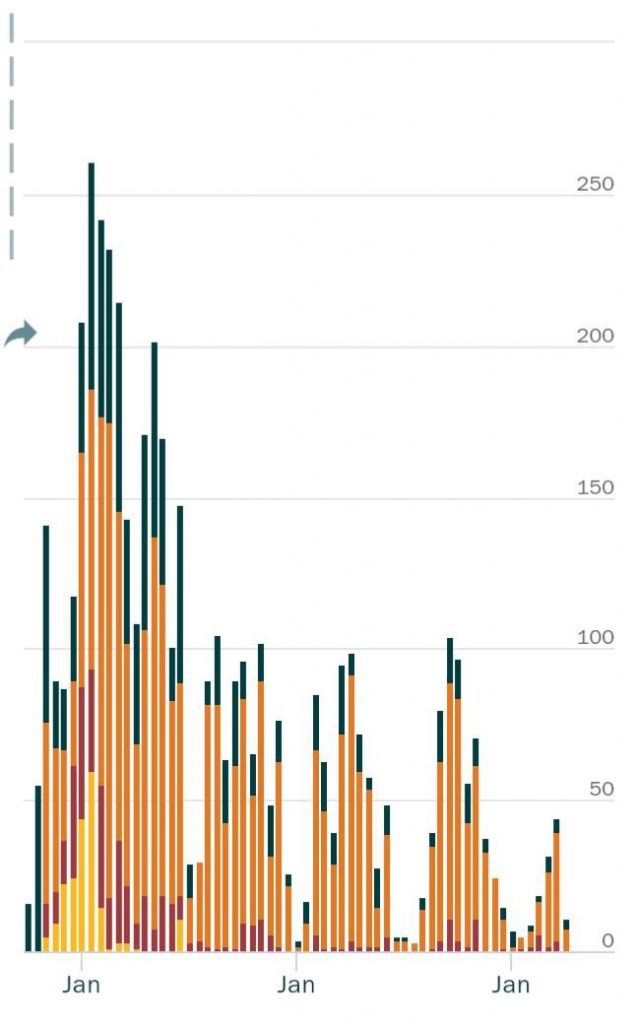 This figure shows how deaths were spread over the years. As mentioned before, in 2015 PKK members tried to occupy several urban areas in South-East Turkey which resulted in great loss of life. In 2016, state security forces regained full control over these areas and PKK moved back to the mountains.
The militant-to-state security force member fatality ratio provides some indication of the Turkish campaign's impact. Since fighting shifted back into rural areas in July 2016 (after a deadly urban phase between December 2015 and June 2016), the Turkish military has been on the offensive. In the first year, 1.65 PKK militants were killed for each soldier, police officer or village guard; this figure rose to 2.22 in the second year and then to 3.22 in the third. In the last year, from July 2018 to July 2019, 3.36 PKK militants were killed for each state security force member.
In 2020 we see a new peak in loss of life by PKK members, nearly four PKK militants are killed for each state security force member.
Three reasons likely explain the PKK's higher fatality rate over the last year. First, the PKK is having a harder time sheltering among and securing supplies from core supporters in south-eastern villages, who are usually intimidated by Turkish forces' curfews and security cordons. Secondly, drones and other new military technology have helped Ankara clear militants from mountain strongholds. Thirdly, U.S. pressure on the PKK to rein in attacks in Turkey has meant that it remains largely in a defensive posture. On the U.S.'s part this pressure was mostly an effort to avert further Turkish backlash against Washington's partnership in Syria with the PKK-affiliated Syrian Democratic Forces.
Crisis Group data on PKK militants killed in Turkey and northern Iraq between July 2018 and July 2019 (a total of 361) shows that around 8.5 per cent (31) were from western Iran, around twice the number in the same period of the previous year. The majority were born in Mariwan, Serdesht, Urmia or Khoy.
This data suggests that the PKK is compensating for the manpower shortage in its insurgency against Turkey by bringing in more cadres from Iran. It also means that the pool of recruits the PKK can draw on in its insurgency against Turkey goes beyond Turkey's borders. In fact, as of 4 October 2019, 9 per cent of all PKK militants killed since July 2015 were from either western Iran (4.7 per cent), northern Syria (3 per cent) or northern Iraq (1.3 per cent).