A COVID-19 unit nurse says she resigned Monday after being told she couldn't wear an N95 mask. She warns, "nurses are not being protected."
Stories about medical staff without proper protection are getting more and more common in the US, as the COVID-19 virus spreads through the country. The Trump-administration, has spent the last two months throwing mud at China and Iran for its responses to the pandemic, and has not prepared its own country for the looming danger. This week, the USA has broken the worldwide record when it comes to COVID-19 cases.
Amid a troubling mask shortage, a Chicago-area nurse says she bought her own N95 mask to bring to work. But she alleges the hospital told her she wasn't allowed to wear it. Not even while caring for a COVID-19 patient in a designated COVID-19 unit.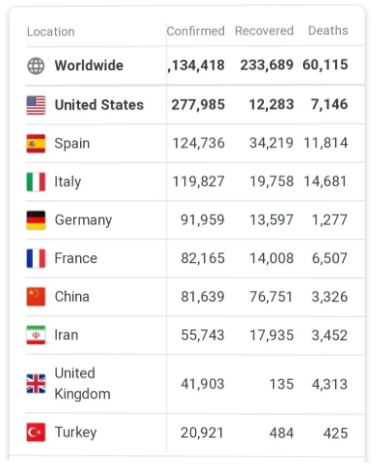 In a tearful Instagram video, Imarís Vera, RN, explained she felt that she had to quit. Vera said, "I wanted to work," but she says she left the hospital Monday after her manager wouldn't allow her to wear her own N95 mask.
She described unseemly conditions for a hospital treating patients infected with the coronavirus. Vera alleges nurses aren't wearing masks in the hallways when giving report. Further, she says the hospital is making them reapply and reuse masks stored in brown paper bags after treating COVID-19 patients.
Vera says she was trying to keep herself safe while helping in the fight against COVID-19. And she was looking out for "family members who have pre-existing conditions" that make coronavirus especially hazardous. That's because they "wouldn't get a ventilator if they contracted" COVID-19 from her.
In a difficult-to-watch Instagram video uploaded Monday, Vera said:
"I quit my job today. I wanted to work. And I was assigned to a COVID patient on an ICU unit that has been converted to a designated COVID unit. None of the nurses are wearing masks, not even surgical masks in the hallways when they're giving report to each other."
She says she told her manager she brought her own N95 mask, but the hospital wouldn't let her wear it. She was treating a COVID-19 patient that day.
"I had my own N95 mask. I told my manager I understand we're short on supplies. But let me protect myself. Let me feel safe. I have family that I have to come home to. And the way things are looking, this isn't going to get any better. America is not prepared. And nurses are not being protected."
Moreover, in the video caption, she wrote about disconcerting hospital conditions:
" I expected to see ALL OF OUR #NURSES & STAFF wearing #N95 masks but ​no one had ANYTHING ON… "
Meanwhile, Dr. Anthony Fauci, the nation's top infectious disease expert, says the CDC is seriously weighing recommending all Americans wear masks.
Stories like Vera's are not uncommon. A nurse in Missouri resigned after being told she couldn't wear an N95 mask she bought with her own money. Soon after, the hospital changed its policy. A nurses union in California says a hospital consortium in the state threatened to fire nurses wearing their own masks to treat COVID-19 patients. A nurse in Oklahoma says he was fired for wearing a droplet mask to treat a patient.
On top of it all, hospitals across the country are warning nurses they'll be terminated if they speak to the press about the lack of protective gear. The U.S. is sorely underprepared for the coronavirus pandemic, and healthcare workers are paying the price.
At the same time the COVID-19 crisis hits America hard, Trump keeps tweeting and blabbering about Iran. One reason for Trump's rattling against Iran may be that he hopes a conflict with Iran could take the public's mind off his criminal mishandling of the coronavirus threat domestically.
US Presidents have been known to resort to military action in a bid to keep or regain their popularity at home.