Reports have stated that four underaged boys, one of them with a mental disability, from Ney village, in Mariwan, Iranian Kurdistan have been deceived into joining 'Party for a Free Life Kurdistan' or PJAK. After spending two days and nights in a hiding place near the village, the boys were sent to the Asos mountain range to receive military and ideological training. At this training site, two of the boys managed to escape. They have returned home, and although shocked, are in good health and have shared their stories.
Two of the boys are still missing, and should have ended their training by now. There is no information about their state of health or location. The families ask for help from international human rights organizations to lobby for the boys' return.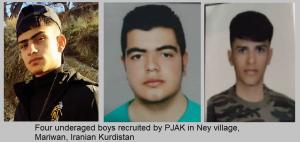 Ney village
Ney village lies in a particular difficult location of Iranian Kurdistan. As a part of Mariwan district, and situated directly at the border (6km distance) with the Kurdistan Region of Iraq, it is a common passing way for Kurdish separatist organizations. At the 2006 census, its population was 2,437, in 527 families. The region is impovered, and its population relies on agriculture and smuggling (kolberi).
Reports coming out of the village consist of activism and recruitment by PJAK and KDPI, deaths of kolbers dying in the snow, arrests of separatist sympathisants by Iranian authorities, and extortion and sabotage by said Kurdish separatist organizations. The population has mixed political beliefs, some sympathize with the government or separatist Kurdish organizations, others remain neutral, disillusionized by both.
Political issues and activity in the region make it hard for watchdogs to report on human rights violations. People are afraid of reprisals if they speak up.
Day of recruitment
On 23 December, 2019 (2 Dey 1398 on Iranian calendar), the four boys told their families they would visit a picknick spot a bit higher up from their village to hang out. In the summer, this is a place where families go and have barbeques, picknicks and so on. On colder days, youngsters hang out there, play football, have snowball fights, and so on.
Sirwan Kasrayi (15), Ramyar Kawe (16, mentally disabled), Aresh Danishwar (17) and Zanyar Enayati (17) met a small group of PJAK fighters on this spot. Sirwan has described the evening they were recruited as a bright, starry evening. He remembers that they would sit down on a bench and discuss girls and the future of their village, at approximately 100 meters from the group. The boys wanted the village to turn into a tourist hub, as it had beautiful nature, and the attraction of tourists would lead to a lower unemployment rate.
He said that two girls of the group approached them and entered the conversation. They told them that the Iranian government is the reason these goals could not be achieved, and that PJAK was fighting for a better future for the Kurdish people in Iran. The boys seemed caught in the moment by the perspective of such an adventure, except for Sirwan. One of the girls took Sirwan apart and started a new narrative, she said she was from Syria and talked to him about going abroad, get a good job and marriage. Sirwan stated he even then knew it was a lie, but was simply afraid to be separated from his friends.
The fighters took the boys to their sleeping spot. At that point, the boys were separated from the girls, and realized what had happened. The group's commander Marwan told them to get under the canvas and be quiet. Ramyar said that Marwan threatened to kill them if they'd make noise. Sirwan remembers they all cried themselves to sleep in silence, as family members were shouting their names in the distance. Ramyar begged the commander to let them go multiple times, to no avail.
Training and escape
The boys spent the winter in the Qandil mountains, were they slept in caves. They were sent to the Asos mountains to receive military and ideological training in spring. Ramyar and Sirwan describe the training facility as a camp with a tunnel, tents for the commanders and an underground sleeping quarters. There was no bathroom. The boys would wash themselves in groups of five with water that was heated on fire. They spent a large part of the time there hiding under large boulders, as Turkish reconaissance planes would scan the region for PKK fighters. The camp got bombed once, and nearly ten members died in this attack. The deaths were not announced to media or the families of the victims until over a year.
One of the boys got ill and did not receive the medical attention he needed, but was given antibiotics by a veterinary instead.
The recruits consisted of several Iranians, Syrians and Kurds from Turkey. The commanders would set them up against eachother. The boys would not criticize their commanders or the organization in fear for reprisals, as the recruits spied on eachother and told the commanders if anyone was unhappy with their situation. Recruits that expressed unhappiness were imprisoned for several days as punishment.
In autumn 2020, the training was ended and the recruits were sent to different places. Ramyar and Sirwan were separated from Aresh and Zanyar. Ramyar and Sirwan were ordered to enter Iranian Kurdistan with two more experienced fighters. Sirwan was told to drive a small truck into Iranian Kurdistan. When they entered Iran at a spot only several kilometers from Penjwen, an opportunity appeared. The boys left their guns behind and ran away. They hid themselves for several hours. At nightfall, they went to their village and visited their families. The next day they turned themselves in to authorities, which questioned and then released them. The boys state they have been treated well, but do not leave the house in fear of gossip of sympathizing villagers and reprisals by the organization.
Aresh and Zanyar are still missing. There is no information about their whereabouts. The families believe they are still in Iraqi Kurdistan or might have been sent to fight in Turkey. Their families petition international human rights organizations to lobby PJAK for their release, and demand the Iranian government to support them in returning their children.
Sirwan Kasrayi
Photo taken December, 2020, provided by father, Hiwa
Sirwan Kasrayi was born in 1383 (2005). His father's name is Hiwa. I have spoken to both Sirwan and Hiwa by telephone. This conversation is recorded and can be provided if guaranteed it will not be leaked to the media. The family is still afraid for reprisals, as their village is often visited by groups of PJAK fighters.
Sirwan was 15 years old when recruited by PJAK in company of his three friends. He went to high school. He comes from a family of three children. His father is a farmer, and occassionally drives a cab. His mother is a housewife.
Sirwan stated that his family are not PJAK supporters, and are neutral in the conflict between separatist organizations and the Iranian government. "PJAK fighters introduced themselves. I had heard their names in cases of kidnapping child recruitment and extorting money from local workshops, but I had not seen them closely before. My father tried not to talk about these groups at home, because he knew more about them and said that everyone saying they are good, lied."
On the promises that were made by the female fighter he stated: "One of the two girls took me to a corner farther away from the others. My friends were happy and said they would go. I was afraid of what answer their family would give me. They would complain and be angry."
"The girl, when she saw that I was against it, talked to me about marriage and other issues where we can find a good job and money, but I knew it was a lie. That night I did not sleep for fear that they would tear us apart so that there would be no way back. It was kidnapping."
"In the morning, one of them was a commander named Marwan spoke to us and told us to go to Qandil for training and they would send us home after we finished it. I knew this was a lie, but we had no choice because we would be killed if we escaped. My friend cried. He protested, but to no avail."
"They took us to a place called Asos for training, and there were some from Turkey, a few from Syria, and a few other children from Iran. At night I was not the only one crying because I wanted to run away and draw. To find a way to escape. At eight o'clock at night, after seeing the news, even if it was possible, because most of the time spy planes would come and stop them."
"Because I knew how to drive, I got the keys to a truck, and little by little I found a way out. They specified me and Ramyar would go to Iran with two other fighters. The others were separated. The place they would go would be specified later. At the first opportunity, when entering Iranian Kurdistan, I laid down my arms from the border with my friend and fled to freedom. Although we knew that if they found out, we would be killed."
Ramyar Kaveh
Ramyar Kaveh was born in 1382 (2004). His father's name is Aziz. Ramyar was 16 years old when recruited by PJAK in company of his three friends. Ramyar has a mental disability, a form of autism, and that is why he was two years behind in school. Ramyar has panic attacks, anger attacks and is easily manipulated.
I have spoken to Aziz Kaveh, Ramyar's father, who said: "My son has a mental disability. They also kidnapped him. It was Wednesday night. He and three of his friends went out of the village for fun, but they did not return."
This conversation is recorded and can be provided if guaranteed it will not be leaked to the media. The family is still afraid for reprisals, as their village is often visited by groups of PJAK fighters.
"Because my son was mentally ill, we tried to provide him with all the facilities so that he would not lag behind his other friends in school. I have four children, two daughters and two sons. We take him to the doctor every month for tests."
"That night when Ramyar went out with his comrades, I had a strange feeling but I did not object because I knew Ramyar's mental condition. His friends are also calm and listen to him. It does him well to get outside. Almost all the villagers love him and know his condition."
"This year the PJAK group has reached the highest number of extortions from people in these areas. Theft from the flour factory are obvious examples of this, you can read this is newspapers, and at the top of it is the kidnapping of children, which is common in these areas today. If a child is not found, he can be found in PJAK. They will tell you to go to Qandil. And when you go there, they will say they are unaware and you will never know the fate of your child until the news of his death is heard. Some people pressure them a lot, so they confess their child is in PJAK, but nobody ever sees their children there. They do not allow it."
"His mother had a bitter life during this time when Ramyar was absent. She also fell ill and her doctor's expenses were added to these problems. During this time, she became depressed and lost her sight."
"On the night that Ramyar was abducted, I went everywhere for three days, but there was no news. Then we received information about his abduction by PJAK and we went back to them. They refused to tell us anything, but after his mother cried, they said he went to Qandil for training. We went there. Then they said that he was in training and did not have the right to meet. We asked to talk on the phone, but we were ridiculed."
"Ramyar is so shocked that he is afraid to tell what happened, but he is very stressed and scared. He says: 'She was twenty years old. She was a girl from Syria.' He said he was afraid in the dark and cried every night. His commanders made fun of him and said that he would learn."
"Ramyar said: 'We two came back and the government did not say a word to us. The government, which they consider our enemy, treated us like a human being. I understood.' "
Aresh Danishwar
Aresh Danishwar was born in 1380 (2002). He was 16 years old when recruited by PJAK in company of his three friends. His father's name is Muhammad Rashid. I have spoken to Aresh's father. This conversation is recorded and can be provided if guaranteed it will not be leaked to the media. The family is still afraid for reprisals, as their village is often visited by groups of PJAK fighters.
"On a beautiful night in the Kurdistan region of Iran, my son went with his friends and never returned. Since that night, our world has been darkened until now."
"My son was a child, he was studying and he wanted to continue his education, but PJAK kidnapped him and took away his dream of a better life."
"The government does nothing. They (PJAK) will easily enter the village and steal our children, and we have no choice. If we follow them, we will be accused by both sides. This group has made the area impossible and has made life difficult for families."
"I have a nine-year-old girl and another three-year-old boy at home. We fled to the city for fear of being abducted. I am a cook. Aresh was 16 years old when he was abducted. We have not heard from him or his fate for two years. Help us. His place was university and class, not mountains and weapons."
"We, the parents, have the right to know who took our children and for what and where, but every time they try to convince us with a lie."
The family petitions for the return of Aresh and is ready to cooperate whoever can guarantee his return.
Zanyar Enayati
Zanyar Enayati was born in 1382 (2004). His father's name is Muhammad Ali. Zanyar was 16 years old when recruited by PJAK in company of his three friends.
I have spoken to Muhammad Ali Enayati, Zanyar's father, who cried throughout the whole conversation. This conversation is recorded and can be provided if guaranteed it will not be leaked to the media. The family is still afraid for reprisals, as their village is often visited by groups of PJAK fighters.
"Someone who is a father might understand me. I have a son. I raised him for many years and sent him to school. I did not leave him unemployed and poor. I wished he had an advantage in the future. I thought that no one but God could separate him from us. But PJAK committed this crime against me. This is the greatest human crime."
"He was not yet 17 years old. He is a child. They are good at kidnapping children. Why don't they come and talk to me about their goals because I have would debunk their repeated lies. I have heard them all before."
Asked if he looked for his son, Muhammad Ali said: "I, a father, go under all the rocks to find my child, but unfortunately these thieves both stole him and did not confess. I followed their fate through my friends in Iraqi Kurdistan, who visited the camps, but unfortunately they do not tell the truth about his whereabouts."
"The house has become hell, all his clothes, bedroom, photos, books, movies and laughter are in front of our eyes at any moment."
"I went to look for my son in many places and finally found out that all four friends had been kidnapped together, because two of them had escaped and returned. I talked to them, and they gave me hope. We could not find him because they did not have the right to meet and call. I am just glad that he, like his friends, has the wish to leave them and will hopefully one day be able to escape."
"I have seen some who managed to escape but have not yet been able to find themselves. A girl who escaped is now suffering from depression and nervousness."
"When some people go to find out about their children, which is the legal right of a parent, they are ridiculed, harassed and even beaten. Those who do not know the dignity and humanity of the people they lie to defend, how can they defend them?"
"You know PJAK will never succeed because the wailing of thousands of families is like a curse to them, including my wailing. I wail because I do not know what has happened to my child."
"If my son Zanyar was at home now, he would have been at university, he would have been an excellent student and I knew he would succeed, but this group gives children weapons instead of pens and houses them in caves, this group steals and kills them."
"You do not know what crimes they have committed. Burning the chickens of a poultry farm alive. Beating their workers, stealing flour from flour mills and making the fate of our children unknown. These are all war crimes that must be answered in court, they must even answer to the mothers whose children were killed."
"Help me take this case of my son to the human rights courts in the world and make them hear the voices of the mothers and fathers. If they really understand human rights, they do not go by without asking them why they kidnap children. God does not forgive them, because we, the parents, are in torment. It is the greatest crime of humanity to separate parents from their children. The world must hear our voice. We are the victims of terror and terrorism."
Demands of the families
First of all, the families demand the international human rights organizations lobby the PJAK for the release of Aresh Danishwar and Zanyar Enayati. Their second demand is to pressure the group to stop the overall recruitment of minors, as they realise there are hundreds of other families suffering, and many other children vulnerable to recruitment in the area. The third demand is that the Iranian government follows up on the fate of the children and starts a campaign to prevent the recruitment of children.